How to Shop wisely for the region's best food souvenirs.
When it comes to preserving the experience of a trip abroad, a food souvenir is a fine way to bring home a literal taste of place, ready to be sipped, savoured or shared with family and friends. True connoisseurs look beyond the offerings at an airport duty free store (although there can be surprising finds there) and search for take home trophies that truly reflect their travels in a way that no mass market chain ever could.
By Leslie Wu
How, then, can you ensure that you are shopping with savvy and sophistication when it comes to finding that perfect artisanal product? Below are a few tips to help you unearth your next tasty treasure followed by some delicious examples from a road trip starting at one of AirSprint's most scenic European landing points.
Tip #1: Check the Certifications
Often used in describing wine, the concept of terroir is a celebration of the way a local environment shapes the products that are grown and made in the region. In many countries, especially France, Italy and other members of the European Union, these products are so highly regarded that the ingredients and manufacturing methods are closely regulated under a quality policy, such as the protected designation of origin (PDO) or protected geographical indications (PGI). From Italian Parmigiano-Reggiano to French Beurre de Bresse, these products have designations marked directly on the packaging and are often worth seeking out.

Tip #2: Think Small
Grandiose food halls such as the Mercado de San Miguel in Madrid or Rotterdam's MarktHal can be a very pleasant way to while away an afternoon but thinking smaller may net a more unique find. Check local listings for small farmers' markets (as a bonus, you'll often get to speak directly to the producer) or even drop by a grocer or specialty market to see what the residents buy for their own tables. Fine sea salts, preserved products such as high-end anchovies or foie gras, olive oils from nearby trees or vinegars produced from an ancient starter are easily transportable items that reflect locality well.

Tip #3: Do Your Research
A little legwork either before you travel or at the point of purchase can save you the heartbreak of buying something you thought was unique when abroad — only to find that it can be easily shipped, obtained online or at the local specialty store. Ask questions on online food boards, or even the crew onboard your jet, and make sure your culinary trophies are truly local. Especially when selecting wine or spirits, having your liquor board's website handy will ensure that you aren't wasting resources choosing a bottle available at home. Be sure to factor exchange rates, customs limits and other considerations into your calculations.

Ready to take these tips on the road? Follow along as I map out a mini journey from the artistry of Avignon to the financial hub of Frankfurt, with some must-purchase food souvenirs along the way.



Avignon
Flying into scenic Avignon lands you in prime Provence country, rich with historic architecture and food finds. With a bridge made famous by the children's song "Sur La Pont D'Avignon", the City of Popes has a historic centre that is designated a UNESCO heritage site.
Although Provence's rolling hills may be synonymous with lavender and spectacular Côtes du Rhône wines (including the well-recognized Châteauneuf-du-Pape appellation), it pays to seek out the unexpected: each region has its own food specialty that may be a little less known.
Avignon has a rich history of candied fruits (complete with its own museum) and the delightfully named Papalines D'Avignon — a brightly coloured chocolate wrapped bonbon with a locally produced oregano liqueur filling.
Basel
Proceeding northeast through the larger cities of Lyon or Geneva (or both, depending on your route), a stop in Basel can net you sparkling prizes for both your pantry and wrist. Watch and jewelry cognoscenti descend each year on Switzerland's third largest city for Baselworld, a massive watch fair that draws brands, journalists and buyers from around the world to peruse lavish multi-storey booths and determine next year's trends.
Another outlet for innovation is the Swiss ingenuity for sweets, and as with the finest of mechanical watches, these traditional handcrafted methods have a pedigreed past. The region abounds with stellar examples from chocolate to a special cookie of the region called Basler Läckerli.
This seasonal cookie is derived from a recipe dating back hundreds of years to the area's brisk spice merchant trade and is still produced the same way today.
Frankfurt
Finish your trip in Frankfurt, which buzzes with business but also a cacophony of regional culinary delights. Frankfurt's charms are often overlooked for Berlin or Cologne. The city dates back to Charlemagne's reign: a history commemorated in the crowned ring-shaped cake Frankfurter Kranz, piled high with buttercream and nuts.
For those who prefer their frankfurters in sausage form, the precursor to the hot dog is widely available here, especially with a large glass of apfelwein, or apple wine, served in a ridged glass called a gerippte.
Fans of fromage can try the lyrically named Handkäse mit musik ("Hand cheese with music"), a locally handmade sour cheese sometimes served with chopped onions, caraway, vinegar and oil. If you're looking for a less fragrant treat that may be better suited for travel, a bag of marzipan Frankfurt Bethmännchen pays homage to one of the city's preeminent banking families.
Wherever your travels may lead you, there's always a new food horizon to conquer. Taking the time to choose the right food souvenir will extend warm memories of those experiences in the months and years to come. ✈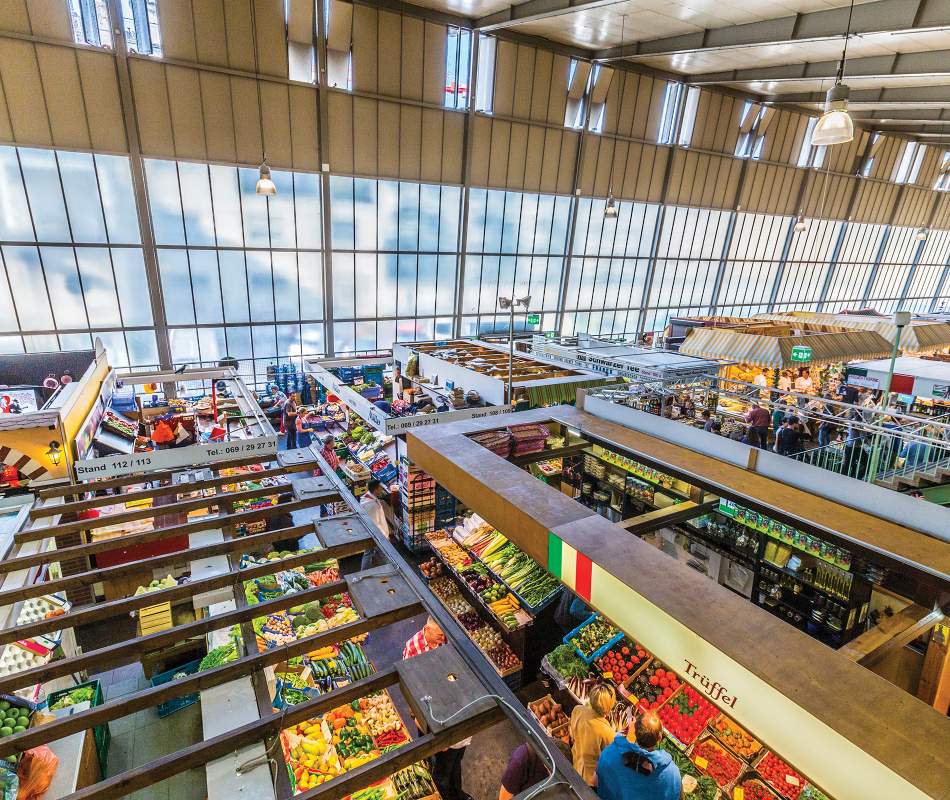 Your destination possibilities are endless when you own your private jet.
Fly Seamlessly By Private Jet - Europe*
Avignon, France
from Toronto = 7 h 48 m
from Ottawa = 7 h 13 m
from Montreal = 7 h 03 m
from Halifax = 6 h 14 m
Basel, Switzerland
from Toronto = 7 h 47 m
from Ottawa = 7 h 12 m
from Montreal = 7 h 02 m
from Halifax = 6 h 17 m
Frankfurt, Germany
from Toronto = 7 h 43 m
from Ottawa = 7 h 08 m
from Montreal = 6 h 59 m
from Halifax = 6 h 15 m
* The flight times above are approximate - times are weather dependent and should serve as reference. Variables/Assumptions used for the calculation: 4 passengers @200 lbs. (91kg) each, 85% annual airport temperatures, 85% annual winds, ISA en-route and NBAA IFR 200nm reserves. Great circle distance +3%.
With Canada's largest fractional fleet of private aircraft we are confident AirSprint will be able to... fly anywhere business or pleasure takes you.