What to expect from a career in business aviation and why now is the perfect time to get started.
Just as it has for many sectors, the pandemic has forced the aviation industry to innovate. It's become necessary to consider new paths, adopt disruptive technologies and make the best of a challenging situation while we anticipate a more positive future outlook.
The rays of that brighter tomorrow will illuminate the business aviation sector well before they fall on the commercial airline industry.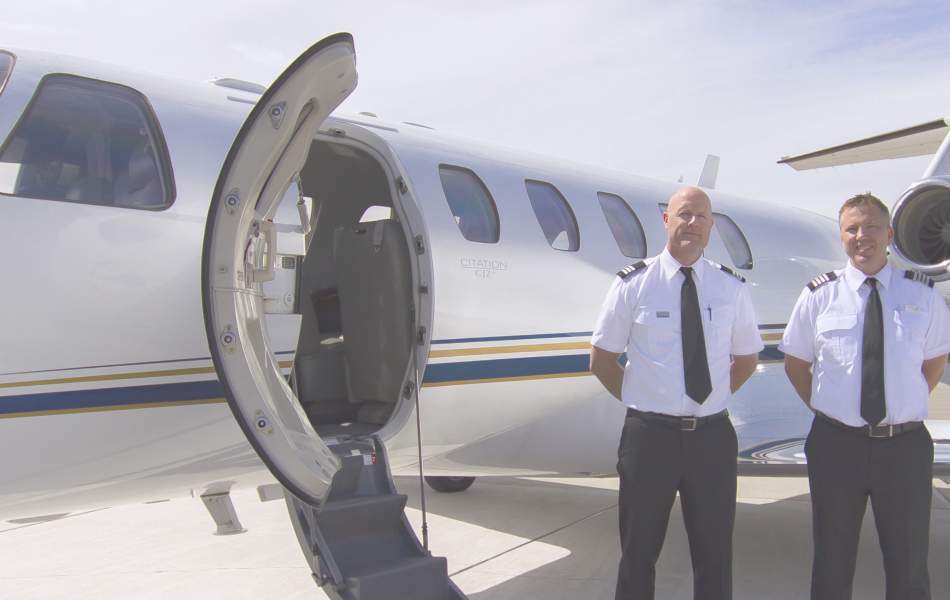 A Message from James Elian, President & CEO, AirSprint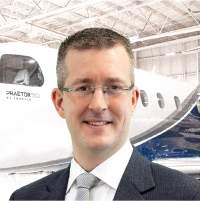 As I write this in the spring of 2021, private aviation is on the brink of a multi-year opportunity.
Currently, we have a tale of two stories. On one hand, airlines have become less appealing as people look for safer travel alternatives due to COVID-19. On the other, airlines have contracted, decreasing frequency and cutting routes – essentially driving people to investigate private aviation.
I believe we're looking at several years before airlines return to pre-COVID activity. For private aviation – and for people considering a career as a pilot – that presents a lot of possibilities.
Here at AirSprint, the number of Fractional Owners has jumped by 25 per cent since the start of the pandemic. We saw a record first quarter in 2021, enjoying the largest client growth in our 21-year history.
While we are seeing this unprecedented growth, we continue to work with government at all levels to implement policies that will enable Canada to reopen for business in a safe and sustainable way. AirSprint Fractional Owners are leaders in business and innovation, and they will drive Canada's recovery. This fact leads me to believe that private aviation will see a period of record growth once the opportunity to travel returns.
We are currently preparing for this wave, augmenting our internal procedures and processes, implementing new technology to improve efficiency and introducing some exciting new options for Fractional Owners. AirSprint operates the youngest fractional aircraft fleet in North America and we are adding three Embraer Praetor 500 aircraft this year, to further expand our service area. In addition, we are refurbishing the entire Cessna Citation CJ2+ fleet with new paint and interiors and adding additional Cessna Citation CJ3+ aircraft.
For those who dream of becoming a pilot, opportunities will certainly exist in private aviation. Every time we bring on an aircraft, we hire five pilots – and we plan to hire at least 15 in 2021.
Exactly what kind of career can you expect? In this guide we provide information, career case studies and salary ranges to help you learn more about private aviation and AirSprint.
In this business, every day is different. You'll fly to hundreds of unique destinations while being empowered to make decisions along the way.
It's true that the sector's big challenges have been job security and scheduling. At AirSprint, we've addressed these issues. Our Fractional Ownership model covers all fixed costs while our diverse client base ties our services to a wide range of industries, minimizing risk. When it comes to scheduling, we invested $1 million in 2014 to build our preferential bidding system, an equity-based framework that gives all our pilots more control over what I call "quality" days off. That's important, because our people drive our success, and we want them to choose AirSprint as their career company.
When it comes down to it, AirSprint is a customer service company that uses airplanes to help our customers succeed.
Aviation is an exciting industry. It's one of those things that gets into your blood - and once it does, it will be there for life. If you have any questions, don't hesitate to reach out to us. This is the perfect time to investigate your future in private aviation!

James Elian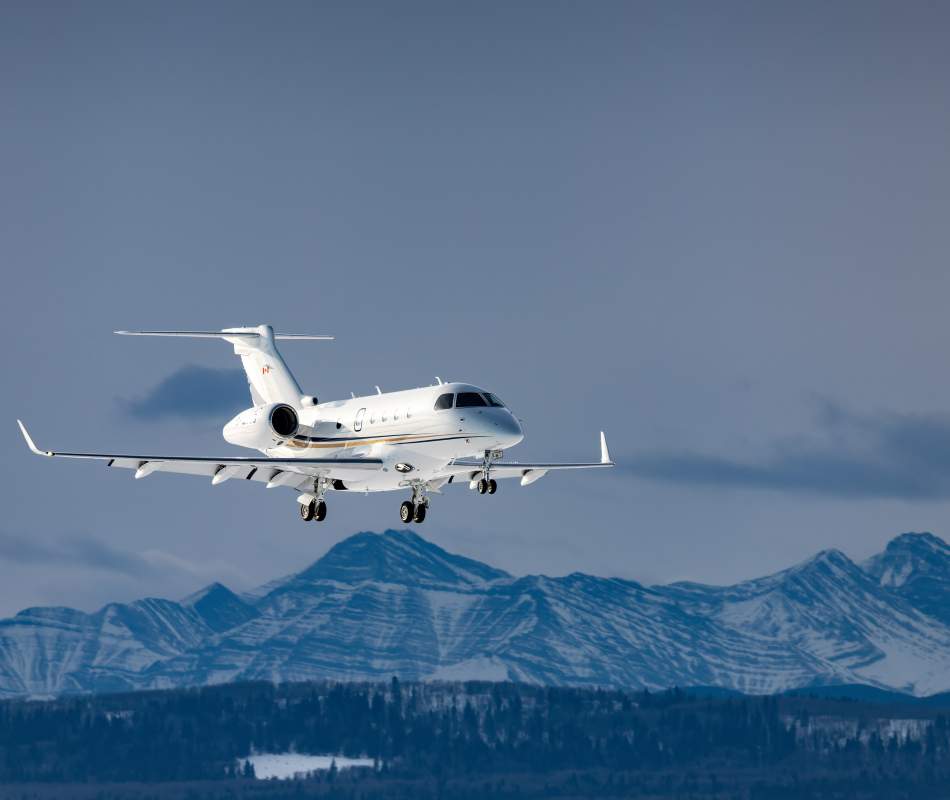 Executive Summary
Prior to the COVID-19 pandemic, the global aviation sector was soaring on an all-time high. According to Dr. Suzanne Kearns, aviation professor and author at the University of Waterloo, "The world was facing a looming shortage of aviation professionals (pilots, cabin crew, and maintenance engineers, among others) as training organizations struggled to meet demand."1
Then, in March 2020, the industry changed dramatically. A white paper2 produced by specialized aviation services provider ARGUS International reported that U.S. business aviation alone saw an unprecedented 71 per cent decline in activity in April 2020. Commercial airlines were devastated as the virus spread across the world and countries restricted travel. At the time this paper was written in March 2021, many airlines continued to struggle for survival.
For those considering a career as a pilot, the plethora of bad news stories coming from the airline sector has planted seeds of doubt. The high cost of flight training has always given prospective students pause, but even more so now. Should they spend upwards of $100,000 for a combination program offering a university degree with pilot licences? Should they postpone their training for a few years? Or, should they simply move on to Career Plan B?
If there's one thing industry experts agree upon, it's that aviation is a cyclical business. Throughout history, its highs and lows have been tied to major world events and it has suffered or prospered accordingly.
Global aviation has come through a series of challenges in recent times, wrote Katie Sehl for APEX in June 2020.3 These include the post-Gulf War recession in the early 1990s, the dot-com bust later that decade, the U.S. terrorist attacks in 2001, the SARS outbreak in 2002-2003, the 2008 global financial crisis and various other viruses (H1N1, avian flu, Ebola, MERS and Zika).
However, none of these challenges compares to the gravity of the COVID-19 crisis. According to the International Air Transport Association (IATA), the airline industry lost a sobering USD$118 billion in 2020, with demand down more than 65 per cent over 2019. A full recovery is still years away despite vaccine deployment, said IATA CEO Alexandre de Juniac on March 9, 2021.4
Yet, there are bright spots, too. In the same remarks, de Juniac pointed to survey data showing that nearly 75 per cent of respondents want to travel as soon as possible. Pent-up demand is there, and it is beginning to boil over. The world wants to reconnect.
Indeed, while commercial aviation plans its eventual recovery, private aviation is already filling the void. The sector offers a safer travel option with far less contact points for those who are concerned about exposure to COVID-19.
Avia Solutions Group, a worldwide aviation and aerospace services provider, reported that, "In comparison to 2019, the global demand for business aviation services was down by just one per cent in 2020, according to WingX's weekly Global Market Tracker. In contrast, regularly scheduled passenger flights were down by 45 per cent over the same period. This statistic further exhibits the resilience of the private aviation sector in light of the COVID-19 pandemic. The sector's impressive recovery and operational figures can be attributed to its less contact-based travel options."5
According to a March 11 newsletter produced by business aviation market research firm JETNET iQ, fractional ownership aircraft programs in the U.S. saw a 39 per cent increase in year-over-year demand for small- and medium-sized private jet flights in the first two months of 2021.6 Smaller jets led this wave with a whopping flight cycle increase of 64 per cent.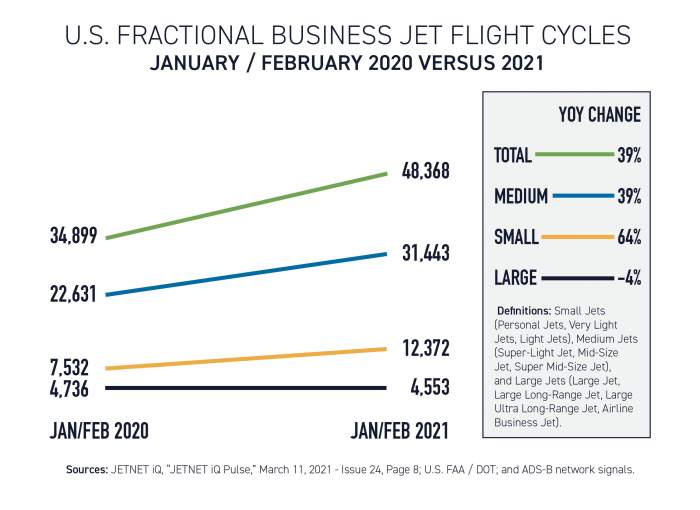 Technology is supporting a positive outlook for the sector, too. As the sharing economy grows and broadens, on-demand urban mobility solutions are expected to spill over into private aviation. Indeed, many operators such as AirSprint are already offering Uber-like booking apps for private aircraft. AirSprint's app for Fractional Owners assists with trip bookings, alerts, passenger lists, ground transportation and catering requests, and more – all designed to help clients maximize their time.
If you are considering a career as a pilot or other aviation professional, the outlook is bright for private aviation. The sector offers stable employment, steady advancement and diverse flying experiences to enhance your career.
Without doubt, aviation is a cyclical business and the next upswing is already underway – led by private aviation. It's a good time to get on board.
1. Dr. Suzanne Kearns, "The Impacts of COVID-19 on Aviators – and How Universities Can Help," LinkedIn, February 17, 2021
2. ARGUS International, "Business Aviation Rebound: 2021 Predictions," December 2020
3. Katie Sehl, "How the Airline Industry Survived SARS, 9/11, the Global Recession and More," APEX
4. "Remarks of Alexandre de Juniac at IATA Media Briefing – 9 March 2021," IATA
5. "The Unseen Value of the Business Aviation Sector," Avia Solutions Group
6. JETNET iQ, "JETNET iQ Pulse," March 11, 2021 - Issue 24, Page 8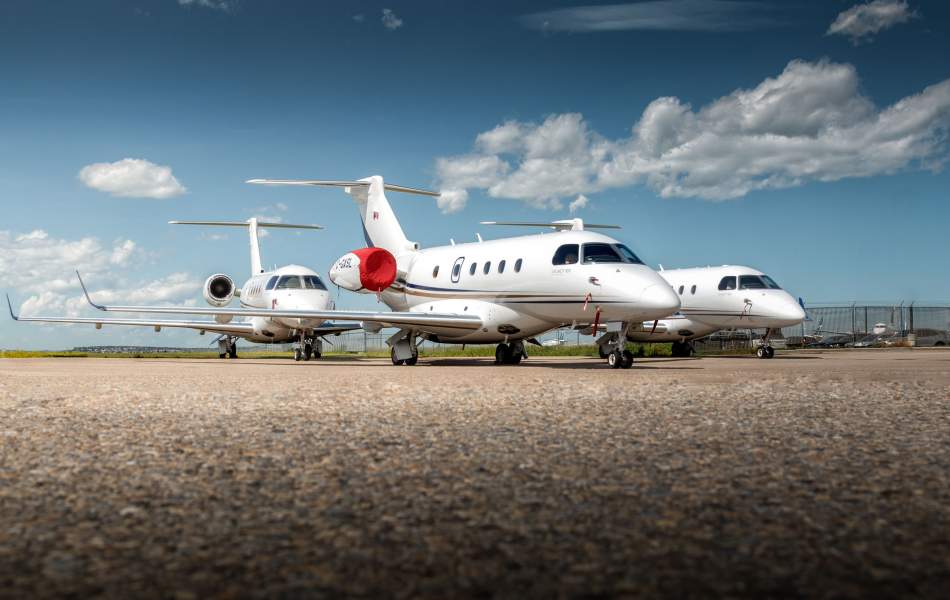 Introduction to Private Aviation
What is private aviation? Simply put, there are three types of aviation activity: commercial, military and general.
The commercial category includes all scheduled airline activity and the military category is self-explanatory, of course. The third category, general aviation, includes all other non-airline civilian flight activity. Within this area you'll find a subset called private aviation, which includes personal leisure trips as well as business aviation (essentially, any flight flown for business purposes).
According to a report prepared by the Canadian Business Aviation Association (CBAA), there were an estimated 1,900 business aircraft – including turboprops, jets and helicopters – operating in Canada in 2017, representing roughly five per cent of all Canadian-registered aircraft.7
Private aircraft are flown around the world by a variety of operators and organizations, ranging from individual owners and companies to on-demand charter providers and Fractional Ownership models. This last option, pioneered in Canada by AirSprint in 2000, involves purchasing a share in an aircraft and paying a yearly fee, which guarantees access and covers all operational expenses, from flight crew to maintenance.
Compared to flying commercially, business aviation offers a host of benefits. Passengers travel where they want, when they want – enabling successful business people to regain control of their time by maximizing their work schedule and increasing productivity.
The sector has long been touted as an economic enabler. The CBAA's 2017 business aviation economic impact report estimated that, "Each aircraft directly generates 6.1 person years of employment, earning approximately $460,000 in wages. This contributes $690,000 in direct GDP and $1.7 million in direct economic output to the Canadian economy. Furthermore, the total GDP contribution of one business aviation aircraft is estimated at $1.4 million in GDP, while the total economic output is measured at $2.9 million."8

According to the National Business Aviation Association (NBAA) in the U.S., that country's approximately 15,000 registered business aircraft "are often called time machines, because business aircraft users can accomplish more in one day than others can in several days."9
For travellers, private aviation offers a number of advantages, including customized scheduling, the ability to fly into smaller airports closer to their ultimate destination, increased privacy and security, and a healthier travel experience through reduced exposure to COVID-19 and other viruses.
7. "Economic Impact of Business Aviation Operations and Business Aircraft Manufacturing in Canada, 2017," Canadian Business Aviation Association
8. "Economic Impact of Business Aviation Operations and Business Aircraft Manufacturing in Canada, 2017," Canadian Business Aviation Association
9 ."Why Should I Consider Using My Aircraft for Business Travel," National Business Aviation Association
Pilot Careers In Business Aviation
A rewarding and lucrative career as a business aviation pilot begins with selecting the right training program.
What Might Your Business Aviation Career Look Like?
While everyone's pilot career develops differently, it's also true that hard work and dedication are the foundations of success in the aviation industry. Here, three pilots share real life stories about how their careers took shape.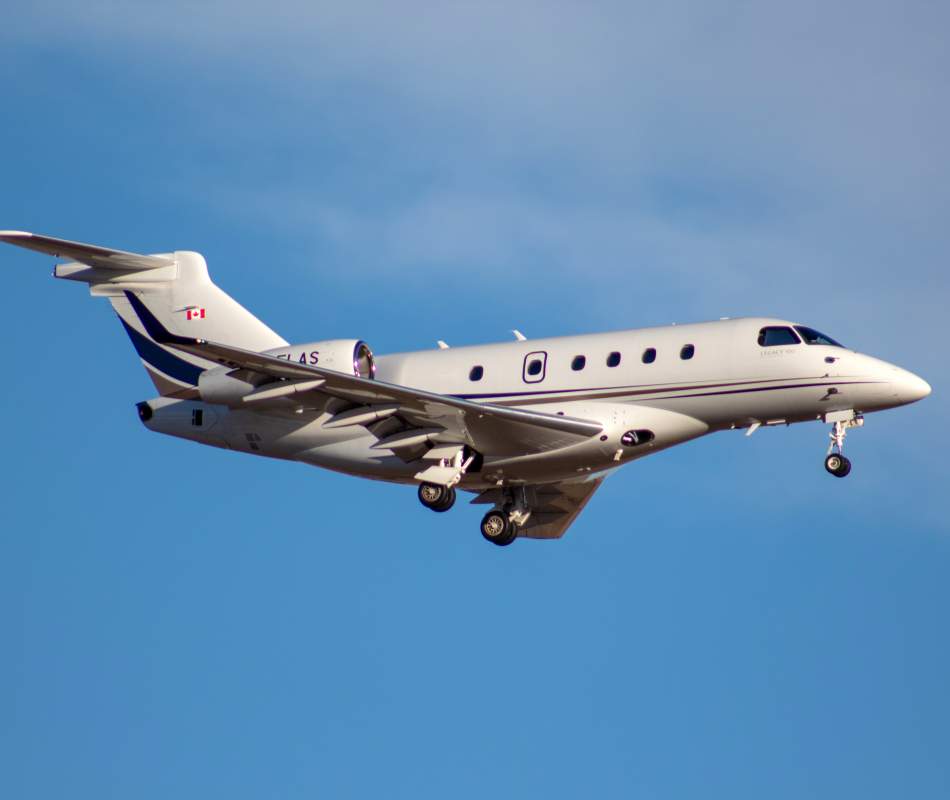 Conclusion
Just as it has for many sectors, the pandemic has forced the aviation industry to innovate. It's become necessary to consider new paths, adopt disruptive technologies and make the best of a challenging situation while we anticipate a more positive future outlook.
The rays of that brighter tomorrow will illuminate the business aviation sector well before they fall on the commercial airline industry.
According to CAE's 2020-2029 Pilot Demand Outlook,11 business aviation activity could recover by as early as mid-2021 in the U.S., although progress may be slower in other markets.
CAE's report predicts the world will need 41,000 new business aviation pilots over the next decade to offset coming retirements, attrition and migration to the airline sector. In addition, the projected addition of 3,600 new business jets to the global fleet will necessitate the hiring of a further 4,000 pilots in the same period. All together, the world will need 45,000 business jet pilots to meet demand in the coming decade.
Between the recovery of business aviation and the return of commercial airline travel there exists a period of unprecedented opportunity. As people look to travel more while reducing their risk of exposure to the virus, they are naturally drawn to private aviation. This attraction is illustrated by AirSprint's 25 per cent increase in Fractional Owners since the eruption of COVID-19 in March 2020 – the biggest growth spurt in the company's 21-year history.
For those considering a career in private aviation, there has never been a better time to join the industry. This type of flying offers several benefits over the airlines: challenging missions to a variety of exotic destinations, the opportunity to fly cutting edge business aircraft, personalized interaction with clients and more autonomy to make decisions impacting each flight. AirSprint offers other important benefits, including a more balanced work schedule, opportunities for rapid advancement, greater job security and other associated perks.
To learn more about business aviation in Canada, visit the Canadian Business Aviation Association website or contact AirSprint to discover your future in private aviation.
It's a good time to get on board!
11. CAE, "2020-2029 CAE Pilot Demand Outlook," November 2020
Why now is the perfect time to get started.