In the buzzing, ethereal atmosphere of a century-old stadium, watching sport resembles a spiritual experience.
An afternoon baseball game becomes a form of meditation that slows us down, calms our nerves and lets us luxuriate in the long pauses between strikeouts and cracks of the bat.
The same is true of watching golf on an iconic course, where we delegate the pressure of hitting the fairway and reading the greens to professionals more up to the task. Football is a proxy for war, its players filling the roles of hero and villain in low stakes battles where bragging rights and the thrill of victory are the only spoils that matter.
By Ben Forrest
In this way, sporting venues are battlefields and cathedrals to the games we love. Visiting them becomes a kind of pilgrimage, and the memories we take away from them are unique to a very specific time and place. They have never occurred exactly this way before, and never will again.
If you're a fan, a fanatic or somewhere in between, it's time to seize the day. Here's a list of seven iconic venues you need to visit this year.
1. Red Sox-Yankees at Fenway Park
Boston, Massachusetts
This heated baseball rivalry dates back more than 100 years, punctuated with clashes between Ted Williams and Joe DiMaggio, Derek Jeter and David Ortiz. Fenway Park, in the heart of Boston, is arguably the best place to see the rivalry play out in modern times. It's the oldest active major league park, built in 1912 — just days after the Titanic sank — and a subtly awesome tribute to America's pastime. The view from atop the Green Monster in left field is unforgettable. You can watch batting practice up close, catch the full game from behind home plate or entertain guests in a private box.
2. Green Bay Packers at Lambeau Field
Green Bay, Wisconsin
If you pause and soak in the gameday atmosphere of Lambeau Field in Green Bay, Wisconsin, home to the Packers NFL franchise, you get a sense of what it was like to watch legendary teams there at their peak. The house that coach Vince Lombardi (figuratively) built and which quarterbacks Brett Favre and Aaron Rodgers turned into hallowed ground, has sold out every home game since 1960. It's usually possible to get tickets a couple of weeks before home games, but it's best to plan ahead. Start thinking about your trip now, and buy tickets as soon as they go on sale. The regular-season schedule is released in May, so you can circle your preferred matchups and reserve your seats online. Lambeau's private boxes are often booked, but the stadium's chilling outdoor atmosphere is part of its charm. If you venture into the stands, be sure to dress warmly (pro tip: Invest in a pair of 'hot pocket' heating pads that the players wear). Lambeau is nicknamed the 'Frozen Tundra' for good reason, but winter football there is sublime.
3. Fighting Irish at Notre Dame Stadium
Notre Dame, Indiana
With more than 90 years of tradition behind it, this venue is saturated with the achievements of the Notre Dame Fighting Irish, one of America's most historically important college football programs. Opened in 1930 and designed by the same firm that conceived Yankee Stadium in New York and Comiskey Park in Chicago, the 81,000-seat building has hosted some of the biggest names in football, including the legendary teams of coach Knute Rockne. In 2017, Notre Dame added cushioned club seats in a private, enclosed area that provide a fantastic view of the field at a comfortable distance from screaming undergrads.
4. Indy 500 at Indianapolis Motor Speedway
Indianapolis, Indiana
About three hours south of Notre Dame, you'll hear the sound of 33 slender Indy cars darting around an asphalt oval at 190 miles per hour (305 km/h). It's perhaps the only noise that can eclipse the roughly 330,000 screaming fans who gather here for racing events. And it's that sound, that speed, and the smell of burned rubber, that makes the Indianapolis 500 the "Greatest Spectacle in Racing". Its venue, Indianapolis Motor Speedway, is a racing basilica that dates to 1909, when a slippery track made of tar and crushed rock was replaced with 3.2 million paving bricks, then gradually covered with pavement. Only one yard (0.914 meters) of brick remains on the track today, and the Indy 500 remains the oldest — some say the most prestigious — auto race in the world. Visitors can access luxury suites with up to 80 guests, indoor and outdoor rooftop seating, pit passes, parking passes, and more.
5. New York Rangers at Madison Square Garden
Manhattan, New York
To watch hockey at Madison Square Garden is to partake in one of North America's great sporting traditions. Located on the west side of Manhattan, between 31st and 33rd streets, the current Garden — one of four arenas to bear that name since the late 1800s — has been home to the Rangers, an Original Six NHL franchise, for more than fifty years. This is where Wayne Gretzky played his final home games, and where Mark Messier guided the Rangers to a 1994 Stanley Cup championship win. Rinkside seats are perhaps the best place to catch the action, but private suites, group lounges and club seating provide a more discreet experience with world-class cuisine, beverage service and a warm atmosphere for entertaining guests.
6. The Masters at Augusta National Golf Club
Augusta, Georgia
In 1931, the founders of what is now Augusta National Golf Club began transforming a sprawling fruit nursery, famous for its savoury Georgia peaches, into the immaculate 18-hole course that today hosts The Masters golf championship. Augusta is both placid and majestic, a southern oasis brimming with dogwood and magnolia trees, azalea bushes and towering pines.
The Masters, held in the first full week of April, is one of professional golf's four major championships. Tickets are usually north of $1,000 for tournament rounds and less for practice rounds. There is also an annual ticket lottery. If you receive an invite from an Augusta member you can even play a few holes on this legendary course on select days of the year.
7. Wimbledon Tennis Championships
London, United Kingdom
The enigmatic, meticulously trimmed grass courts of the All England Lawn Tennis Club in London's Wimbledon neighbourhood, have been proving grounds for elite tennis players since the late 19th century. As part of the Grand Slam of tennis, Wimbledon is the sport's oldest tournament and the only Grand Slam tournament still played on grass.

Legends are born and solidified here, often under the gaze of monarchs and other celebrities watching from The Royal Box. A grounds pass to Wimbledon starts at just £27, and it's possible to access premium tickets on the day of the event. Guests can also enjoy a VIP experience with prime viewing seats at centre court, award-winning cuisine, wine service and other perks. Wimbledon is unlike any other major tennis venue, steeped in history and tradition but with a keen eye on the future. We are living in what could be considered the sport's golden age, with several all-time greats still playing and numerous up-and-coming stars you'll want to see at least once.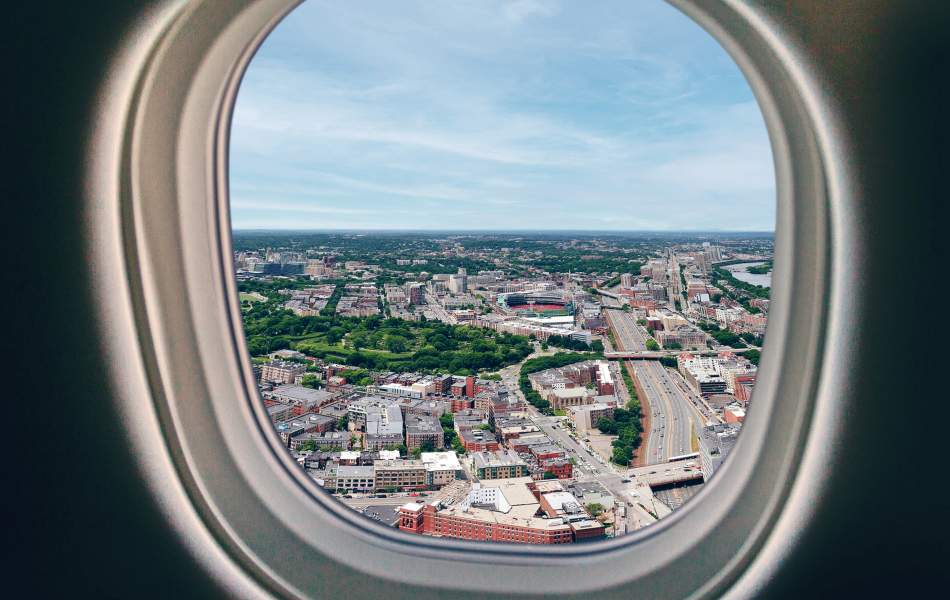 Are you ready to fly to your favourite sporting destination?
Private Jet Access to Your Favourite Sporting Venues*
Fenway Park
via Boston Intl. Airport (KBOS)
from Montreal = 55 min
from Toronto = 1 hr 07 min
from Calgary = 4 hr 06 min
Lambeau Field
via Green Bay–Austin Straubel Intl. Airport (KGRB)
from Ottawa = 1 hr 44 min
from Winnipeg = 1 hr 29 min
from Edmonton = 2 hr 48 min
Notre Dame Stadium
via South Bend Intl. Airport (KSBN)
from Ottawa = 1 hr 41 min
from Halifax = 2 hr 54 min
from Vancouver = 3 hr 49 min
Indianapolis Motor Speedway
via Indianapolis Intl. Airport (KIND)
from Toronto = 1 hr 17 min
from Montreal = 2 hr 01 min
from Calgary = 3 hr 08 min
Madison Square Garden
via Teterboro Airport (KTEB)
from Hamilton = 1 hr 06 min
from Winnipeg = 2 hr 48 min
from Saskatoon = 3 hr 36 min
Augusta National Golf Club
via Augusta Regional Airport (KAGS)
from Toronto = 1 hr 46 min
from Calgary = 3 hr 59 min
from Vancouver = 4 hr 34 min
Centre Court - Wimbledon
via London Heathrow Airport (EGLL)
from St. John's = 4 hr 35 min
from Gander = 4 hr 39 min
from Halifax = 5 hr 33 min
* Embraer Legacy 450/Praetor 500 flight times above are approximate - times are weather dependent and should serve as reference. Variables/Assumptions used for the calculation: 4 passengers @200 lbs. (91kg) each, 85% annual airport temperatures, 85% annual winds, ISA en-route and NBAA IFR 200nm reserves. Great circle distance +3%. ** Stops may be required depending on passenger capacity and weather conditions.
With Canada's largest fractional fleet of private aircraft we are confident AirSprint will be able to... fly anywhere business or pleasure takes you.