Ever been on vacation and tasted something so incredible that it literally made you stop and savour for one exquisite moment?
If you're a fan of fine, bean-to-bar chocolate and haven't had one of these all-senses-on experiences, it's time you did! As a Level III International Institute of Cacao and Chocolate Tasting certified chocolate taster, I've travelled and tasted far and wide to bring you some of the best fine chocolate available in Canada and beyond.
By: Mary Luz Mejia
Let's first define what bean-to-bar chocolate is...
This is the cacao equivalent of fine wine or coffee, wherein the cacao beans are sourced by chocolate makers (often directly from cacao growers around the world), are then sorted, roasted to perfection, processed and refined according to their own recipes. Unlike chocolatiers, who use couverture (prepared chocolate that's melted down to create bars or bonbons), bean-to-bar makers are alchemists that take a raw product and turn it into something new. The difference between fine chocolate and commercial chocolate is like comparing a $2 bottle of wine to a rare reserve from an award-winning appellation. There's a world of difference.


Sirene Chocolate: Taylor Kennedy made the career switch from travel journalist to bean-to-bar maker and is one of Canada's finest. His best-selling, award-winning 65% Dark Chocolate Bar is a favourite for its caramel-like notes with hints of maple that sing the praises of Guatemalan cacao. Or try the 73% Fleur de Sel Dark chocolate featuring Ugandan cacao from the Semuliki Forest, the addition of Vancouver Island Sea Salt flakes creating something uniquely west coast.

Montréal, Québec
Etat de Choc: Maud Gaudreau's minimalist, stylish chocolate boutique on Montreal's Saint-Laurent Street is an ode to bean-to-bar, fine chocolate. She uses Quebec-based bean-to-bar chocolate makers' chocolate to craft her own, award-winning bars, including the Mais et Piment (made using toasted corn and chili peppers in a 70% Peruvian Chuncho cacao from Qantu), and the Hazelnut, Dark Chocolate & Buckwheat Bar made using Chocolat Monarque's 70% Mile End dark chocolate that enrobes Allo Simonne's spread of the same name. You'll find a curated Canadian bar wall and an international selection of top-notch bars on offer here as well. Try the chocolate ice cream in summer!
Qantu Cacao et Chocolat: In the city's east end, Peruvian-born Elfi and Quebecois Maxime use Peruvian cacao to craft standout bars. I am smitten with their multi-award winning 70% Peruvian Chaska Junin bar. This cacao offers notes of dates, fig and roses (no additives or flavourings added here - this is the natural expression of the cacao) – it's spectacular. Their 70% Chuncho Silk Road (Route de la Soie) bar is a gustatory trip along the Silk Road, where cardamom, ginger, fennel, saffron and clove are added to this luxurious bar that also features dried rose petals.

Toronto, Ontario
SOMA Chocolatemaker: Go to Cynthia Leung and David Castellan's original Distillery District outpost for a full sensory experience where you can smell the goods being made and sip a hot chocolate to go with a freshly baked good, or enjoy a gelato in the summer. They make stellar truffles, barks, tumbled nuts and have created single-estate, award winning bars, including my favourite milk chocolate bar, the 55% Creole Gardens using cacao from Haiti, or the fun Brown Butter Rum bar made with cacao from Fiji and rum from Prince Edward County's Kinsip Distillery.
ChocoSol Traders: Michael Sacco and company's flagship store on St. Clair West offers their signature Meso-American style, stone-ground bars, including their award-winning Jaguar line, made of Theobroma Bicolor (a distant cousin to better-known Theobroma Cacao that's nuttier in flavour). Their Jaguar Swirl and Jaguar Crunch bars are some of my favourites, as is their 65% Vanilla Sea Salt bar made with Mexican cacao. Try a water-based hot chocolate when you're there and note - these bars are all vegan.

Buffalo, New York
Dark Forest Chocolate: Business and life partners JoAnne and Dan Sundell craft award-winning soy, nut-free and vegan chocolate from directly traded cacao spanning Peru, Uganda, Madagascar and beyond. Located in the Buffalo suburb of Lancaster, one of my favourites is their 50% Malted Milk bar made with barley malt and a sprinkling of salt to give you a creamy sweet/savoury chocolate that's like a prepackaged, commercial confection, only infinitely better. And coffee lovers: pick up a bar of the multi awarded Coffee and Dark Chocolate featuring 70% Tanzanian cacao, Ithaca, NY's Gimme Coffee's Leftist Espresso with the crunch of organic cane sugar. It's a keeper!

Stann Creek, Belize
Che'il Mayan Chocolate Factory: The lush, tropical country of Belize grows its own cacao beans on Maya Mountain. Many of the farmers are Maya themselves, which is what prompted factory owner Julio Saqui to start crafting his own bean-to-bar creations in 2010, using local, organic cacao. His bars aren't fully tempered due to the country's tropical heat and his factory's al fresco nature, so you'll enjoy them cold, from a dedicated fridge. The Dark Chocolate Mint is terrific, as is his newest creation, The Belizean Bally, a chocolate cream liqueur made with local cacao and rum. It's a new favourite!
Ambergris Caye, Belize
Belize Chocolate Company: UK natives Jo and Chris Beaumont use cacao from southern Belize, grown by Kechi and Mopan Maya, to craft their bars and bonbons. You'll find their powder blue cottage on the beachfront shop in San Pedro where they sell their lovely Kakaw Dark Orange Chocolate Bars, made with Belizean orange oil, as well as gold-dusted truffles that look like Maya temples, cacao powder, brownie mix and more. A great way to take a break from your beach vacation.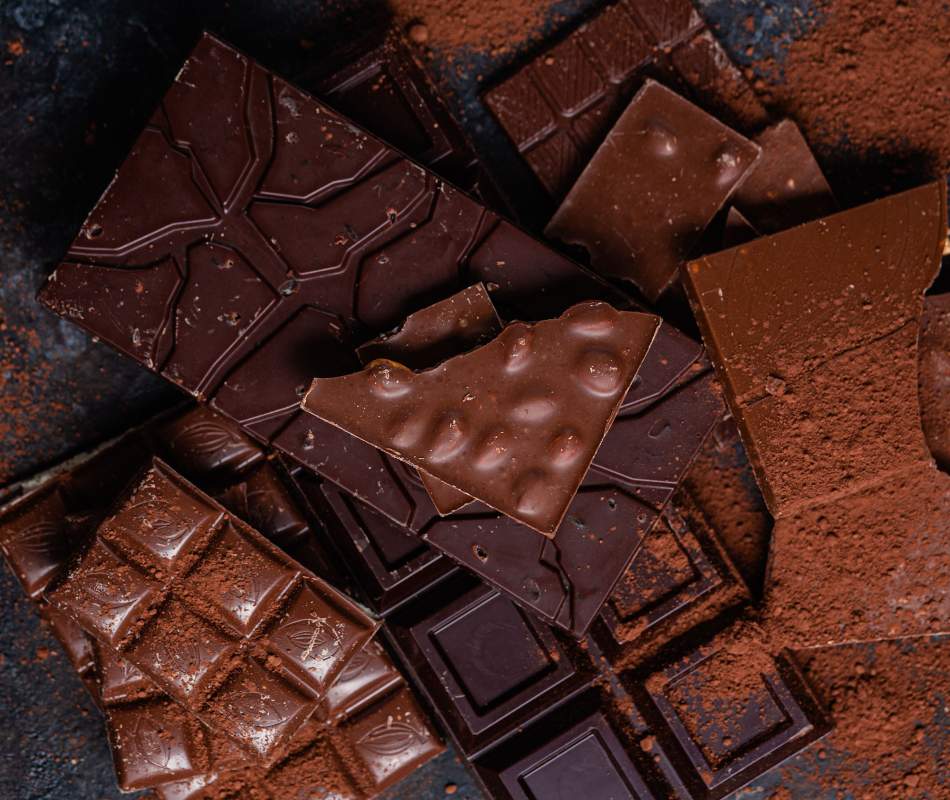 Photos courtesy of Mary Luz Mejia and Dan Sundell.