Just about everywhere you look, you'll spot a finely crafted piece, waiting for an appreciative gaze to discover its genius.
Rugged, beautiful and tucked into Mexico's southwest, you'll find the stunning state of Oaxaca. Bordered by Chiapas to the east, Veracruz to the north and the Pacific Ocean to the south, Oaxaca and its sun-drenched central valleys are dotted with colonial architectural gems whose many city walls are decorated with indigenous and contemporary graphic art.
By Mary Luz Mejia
Apart from the region's well-deserved reputation as the Mexican culinary equivalent of Lyon, France, it's also known for a vibrant arts and culture scene that continues to grow and evolve.
Here are some must visits, and perhaps must buys, for art appreciators who value generations old artisanal craftsmanship made with time-tested, hand-hewn techniques that are as impressive today as when they were first created.
The Rugs and Textiles of Artesanias Casa Santiago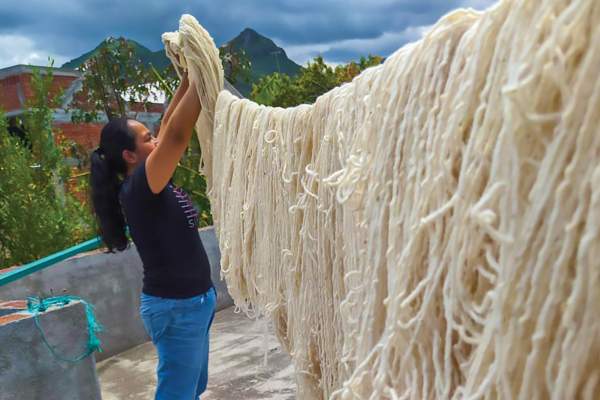 Laying the wool out to naturally dry.
In the rug-making village of Teotitlán del Valle, less than an hour outside of the city of Oaxaca, you'll find one of the best rug and textile making houses in the region: Artesanias Casa Santiago. Since 1966, Don Porfirio, wife Gloria and their extended family have been looming, weaving and dying local Merino wool in a production facility/showroom at the family's home compound on the town's main street.
Using a palate of traditional, vibrant natural colours (such as scarlet red derived from the cochineal scale insect, indigo blue from the añil shrub and a host of other colours from fruits, seeds, mosses, nuts and leaves) the family continues to weave intricately designed rugs, tapestries, and even handbags. Some depict indigenous Zapotec motifs such as animals, maize, rain and natural landscapes.
Daughter-in-law Rocio Mendoza Bazán, who began looming and weaving when she was thirteen, has worked with interior designers in New York to create muted, gradient palettes that she's turned into pillow covers and rugs that appeal to contemporary design esthetics. Oaxaca's high-end Hotel Aul and the Barceló Huatulco are also clients, where she and the family have fashioned bespoke, contemporary tapestries and rugs using their time-honoured techniques. If you're smitten by any of their creations, they will ship them for you, or you can roll them up to take home in your suitcase.
Doña Rosa's Black Clay Creations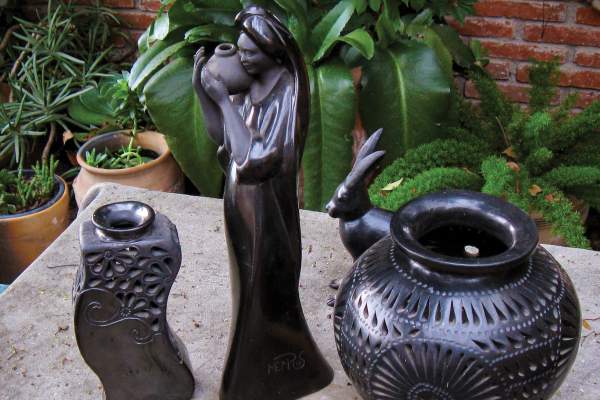 Metallic shimmering barro negro is made into decorative items.
A twenty-minute drive from the city of Oaxaca takes you to the town of San Bartolo Coyotepec, where Doña Rosa Real Mateo de Nieto created a unique method for producing a glossy finish for a traditional pottery style called barro negro (black clay). In the 1950s, she discovered that by polishing the fired clay pieces with a quartz stone, the traditionally matte grey-black clay turned lustrous with a metallic-looking sheen. The Mixtec and Zapotec people in this region have been working with barro negro for centuries, but Doña Rosa's technical additions made her pieces, and those of the descendants who still uphold her style today, very much coveted.
Bowls, votive holders and other decorative, sculptural pieces are all shaped, carved and polished by hand. It's interesting to note that one of her most famous collectors was Nelson Rockefeller, who promoted Oaxacan barro negro in the United States. You can visit the village and her workshop in San Bartolo where, in an inner courtyard, shelves are stocked with the handmade wares for visitors to take home and enjoy.
The Alebrijes of San Martín Tilcajete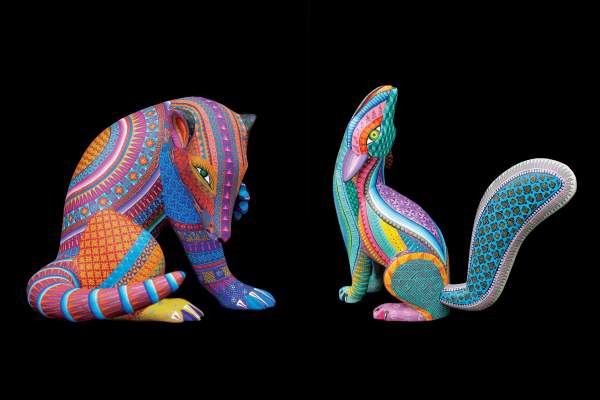 An intricately decorated coyote is painstakingly hand carved and painted by the Fuentes family.
The art of making wood sculpted alebrijes (Mexican folk art sculptures) has been in Efraín Fuentes' family for three generations. He began carving wood under his father Epifanio's supervision when he was a mere seven years old! His wife Silvia Gómez, herself an artisan from San Martín Tilcajete, hand paints the alebrijes that Efraín and their four children carve from single pieces of wood.
Various woods, including walnut, copal, cedar, sabino and even tree roots, are used to carve each piece, which can take days depending on the design's complexity. Jackalopes, coyotes, birds, sacred hearts and fantastical creatures are fair game in the world of alebrijes. After carving, the wood is naturally dried, sanded, wiped down with a special liquid to ward off any insects, filled where necessary, sanded again and then painstakingly hand painted. Alebrijes are usually brightly coloured, often with tiny indigenous codices or symbols in tidy rows. Most people who buy a piece, will carefully wrap and transport it in carry-on luggage. You can also have your piece wrapped by Efraín and Silvia and sent to your home by a parcel delivery service.
If you're bringing a handcrafted piece home, the Canada Border Service Agency (CBSA) will not charge any duty on mass produced work where the design is repeated without much variance in style. As a general rule, original paintings, drawings and pastels are duty free. Sculptures and carvings may be subject to duty. If you make a purchase at a gallery, they will take care of shipping with the requisite paperwork and advance notice of duties. It's always best to check first.
...there are few souvenirs more emblematic of this state than the maguey distillate known as mezcal, meaning "oven-cooked agave" in native Nahuatl. Made by palenqueros, mezcal makers since the 1580s, it's a spirit that's double distilled and as complex as any fine eau de vie.
Mezcal, not Tequila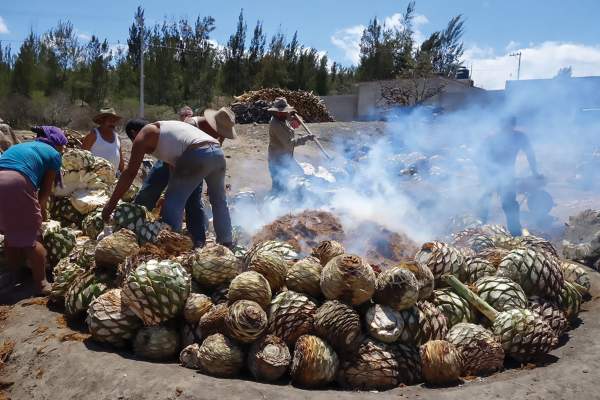 Roasting the pinas in preparation of making mezcal.
Oaxaca is the land of mezcal, an agave distillate that's been growing in popularity around the world over the last decade and is often referred to as tequila's lesser known cousin. The nearby village of Santiago Matatlán is considered the "World Capital of Mezcal". Canadian expert and longtime Oaxaca resident Alvin Starkman is a pioneer in teaching visitors to appreciate the nuances of mezcal. Through his Mezcal Educational Excursions of Oaxaca, Alvin has been offering in-depth excursions to off-the-beaten-track mezcal makers who have been preparing the spirit for generations. His personal relationship with distiller friends guarantees a unique experience, full of guided tastings at rural distilleries and insight into the process involved.
Expect a variety of production methods (some render the libation smoky, some silky smooth), mezcal samplings, and always a good time. Learn about the variety of agaves used to make mezcal, including Alvin's favourite, the marmorata (commonly known as tepeztate) and what makes it special.
For the art enthusiast, there are also bronze jewelry makers, hand embroidered clothing and textiles, red clay sculptures and more to discover in this creative pocket of Mexico. Just about everywhere you look, you'll spot a finely crafted piece, waiting for an appreciative gaze to discover its genius.
Your private jet dream is within reach.
Photos courtesy of Rocio Mendoza Bazan, Efraín & Silvia Fuentes, Mary Luz Mejia and Alvin Starkman.