THE BENEFITS OF AIRSPRINT PRIVATE JET TRAVEL
Enjoy guaranteed access to your aircraft with as little as 8 hours' notice and direct access to thousands of airports. Travelling to your favourite lake destinations across the Lake of the Woods region has never been so seamless.
Want to learn more?
Our private aviation experts are here to provide you with the answers you need.
Please enter your details in the form below, and a team member will contact you within 2 hours during regular business hours (within 12 hours evenings and weekends). If you require immediate assistance, please call 1.877.588.2344 or email FlyASP@AirSprint.com.
More time at the lake and less time getting there.
Kenora
Kenora Airport (CYQK)
From Toronto = 2 h 26 min
From Hamilton = 2h 23 min
From Winnipeg = 42 min
From Ottawa = 2 h 38 min
Parry Sound
Parry Sound Airport (YPD/CNK4)
From Toronto = 45 min
From Hamilton = 46 min
From Winnipeg = 2 h 10 min
From Ottawa = 57 min
Midland
Huronia Regional Airport (CYEE)
From Toronto = 40 min
From Hamilton = 41 min
From Winnipeg = 2 h 12 min
From Ottawa = 58 min
Muskoka
Muskoka Airport (CYQA)
From Toronto = 43 min
From Hamilton = 43 min
From Winnipeg = 2 h 14 min
From Ottawa = 53 min
*Due to the location and size of these airports, there are winter operation restrictions in place that will need to be considered. The Parry Sound and Midland airports may experience limited operations if the runways are deemed too wet by safety standards.
Your private jet dream is within reach.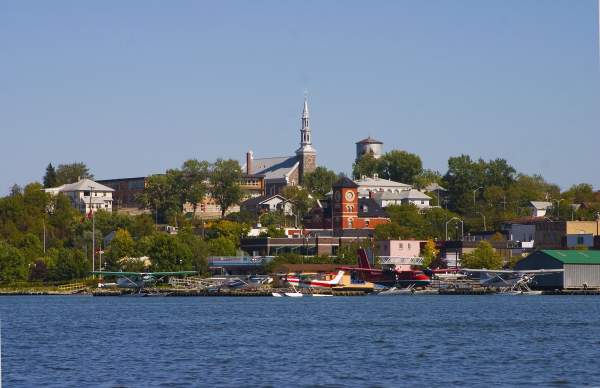 Kenora

Kenora is situated in the Lake of the Woods region of Northern Ontario and is part of Sunset County, a sought-out location for its natural beauty and outdoor adventures. Kenora is the ultimate summer destination for visitors looking to enjoy time by the water and partake in local events. It's known across the country as a premium sport fishing destination, with prized catches, such as trophy-sized muskie, large pike, walleye, and bass, commonly found in the region.
Kenora has a long history of recreational passion where visitors can relax and rejuvenate along the lake's shoreline and enjoy boating activities that offer a unique experience amongst the 14,542 islands nestled within the area. Local merchants gather at the Matiowski Farmers' Market and Open Air Street Markets during summer to showcase their work. For those looking to explore the outdoor spaces in the area, Kenora Trails is a great spot, designated for walking, hiking, biking, and beautiful lookouts for picnics. Visitors can experience the Festival of Lights and Rabbit Lake Winter Wonderland during the winter. The Mount Evergreen Ski Club in Kenora offers visitors over 20 km of beautiful cross-country ski trails and well-groomed downhill skiing.

Parry Sound

Parry Sound is nestled on the shores of the beautiful Georgian Bay, situated on Lake Huron. Known as an all-season destination with countless festivals and events, visitors can immerse themselves in the flurry of excitement. Parry Sound offers many restaurants and food trucks that provide something for everyone's pallet.
Visitors are encouraged to visit during the summer months and discover one of the many scenic lookouts or have a picnic within one of the picturesque parks. You can take an aerial sightseeing tour via Georgian Bay Airways to gain a bird's-eye-view of the surrounding area. There is much to see and do, like the unique experience of scuba diving in the Georgian Bay charters and shipwreck dive sites. Whatever your lifestyle, there is something for everyone; boating, fishing, camping, hiking, or biking - are very popular activities in the region. For a distinctive golfing experience, avid golfers can spend a day at The Ridge, a meticulous course that flows through rock, forest, and meadowland. Moreover, visitors can explore the endless trails on cross-country skis or snowmobiles during winter.

Midland

The town of Midland is situated along the splendid Georgian Bay in the heart of North Simcoe – one of Ontario's hidden gems. Visitors can enjoy the region's numerous parks and outdoor amenities including the famous Midland Butter Tart Festival. In addition, visitors can take a tour and enjoy the Midland murals, which portray the town's long history.
Midland is a visitor's dream, with fantastic sights, sounds, and scenery for all who visit. This ideal weekend getaway location is filled with activities suited for both summer and winter. During summer, visitors can partake in golf at the Brooklea Golf Club and drink in the picturesque views. Afterward, you can indulge in the Midland Food Tours. This up-and-coming and locally-owned tour company provides guided tours with information about the area's cuisine, culture, and history. Visitors are also encouraged to check out the Wye Marsh Wildlife Centre, Midland's beloved nature reserve and home to a variety of different species. During winter, visitors can rent snowmobiles, check out the trails within the region, or go ice fishing with friends.

Muskoka

Muskoka is home to endless natural beauty. Located within the Central Ontario region, Muskoka is consistently named one of Canada's most beautiful places to visit. With a wide array of activities and delicious culinary options within the area, this destination has a little something for everyone. With over 80 lakes, the township of Muskoka Lakes is a cottage dreamer's paradise.
Visitors can enjoy this scenic location year-round, with plenty of winter and summer activities. For outdoor enthusiasts, many stunning hiking trails will provide endless outlooks of the lakes and surrounding area. As a beloved Canadian destination, you can enjoy boating activities, paddling on the water, and biking along the trails and shoreline. As part of Muskoka's identity, the vast collection of art galleries, outdoor art installations, and historical museums will leave everyone with an appreciation for the Muskoka arts and culture scene. Visitors can enjoy the snow-covered banks and forested areas during the wintertime while skating on the lakes. With so many parks within the region, visitors can explore the areas easily on cross-country skies or snowshoes with friends and family.
Enjoy an elevated experience with AirSprint.